Reliable Web hosting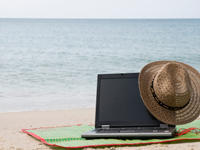 How can I ensure that my internet site remains constantly accessible without being affected by traffic «peaks»?
Alpha is a large travel agency which offers its clients the possibility of booking their tickets online. Their internet site is extremely well-used - with tens of thousands of visitors each day - and brings in more than a quarter of their sales! As far as Alpha is concerned it is absolutely vital to provide their clients with a quality connection 24 hours a day, even when a promotional campaign causes very high traffic peaks.