High performance clustering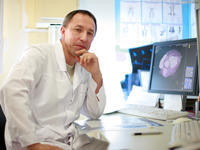 How is it possible to have a network that is sufficiently reliable to handle large data volumes and to process complex calculations?
Phi Epsilon is a large molecular biology laboratory with three different sites. The research being carried out means that extremely large data volumes have to be stored and requires access to a computing centre. The laboratory needs a reliable, secure and high-performance network that is able to handle this considerable volume of data, that can create a sufficient computing capacity and that can offer a backup solution that is totally reliable.